Tizian Cut 5 dry milling machine
Order number: 523193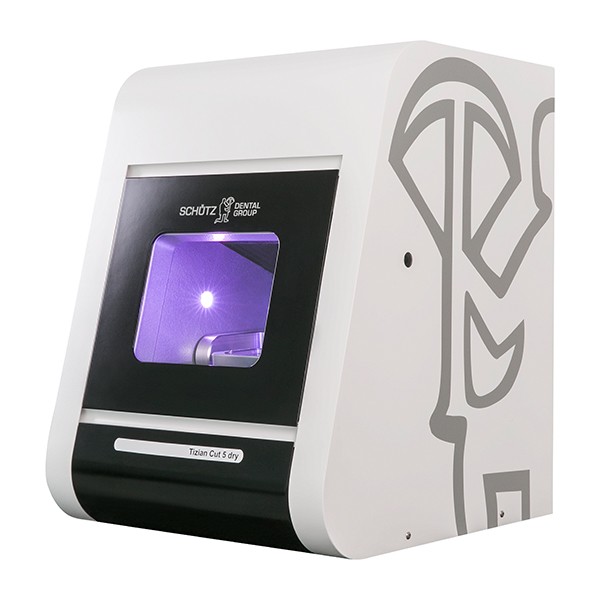 Image can differ
Note
For the purchase of this product please contact our service team
Request offer
Questions about the product? We are glad to be here for you!
Tizian Cut 5 Dry is a 5-axes dry milling system with an especially wide range of indications....
more
Product information "Tizian Cut 5 dry milling machine"
Tizian Cut 5 Dry is a 5-axes dry milling system with an especially wide range of indications. The B-axis convinces by its extraordinary rotation range of up to ± 35 degrees and by a fixation system for blanks with a height of up to 40 mm. These and more features guarantee that you can mill nearly all restorations which are suited to be milled in the dry milling technique.
The notably robust construction of Tizian Cut 5 Dry helps ensure excellent milling results. Numerous features, such as an automatic tool changer or the useful drawer for accessories make your work with Tizian Cut 5 Dry quick and efficient. Have fun working with this user-friendly system.
In addition to these virtually unbeatable features we attach great importance to the system concept. Consequently, this machine is fully integrated into our Complete Digital Workflow. Benefit from technology at the highest level and from our qualified personnel who will be happy to assist you with your questions. Make sure to participate in one of our sought-after CAD/CAM training courses and experience the MANI SCHÜTZ Digital Workflow close up.
Your advantages:
5 axes that work simultaneously: In addition to the three linear axes in x, y and z, two rotating axes provide multiple further processing types. 
Rotation range up to ± 35 degrees: The B-axis with its extraordinarily wide rotation range makes Tizian Cut 5 Dry ideal for milling frameworks and templates as well as prosthetics and objects for implantology.
Blank height of up to 40 mm: Work with a wide range of materials and indications: Blanks made from wax, resins, plaster, zirconium dioxide, composites and chrome/cobalt-based non-precious alloys. Click here to see our portfolio of blanks for almost any indication.
Machine base made of a solid cast body: A cast body closed on five sides absorbs vibrations. This gives you the good feeling of being able to depend on a high machine stability. What's more, a reinforced linear bearing in x, y and z as well as a doubly suspended B-axis further increase the stiffness of the complete axis system - for your excellent milling results.
Automatic tool changer for up to 16 tools: Load the tool changer with replacement tools already before you start. In case of worn tools, you will thus be able to ensure a continuous flow with the replacement tools and without any further intervention by the user. A tactile measurement for diamond tools is also included.
Powerful and highly precise synchronous spindle: The system offers a balanced torque range with 4-fold hybrid ceramic ball bearing and 300 Watt nominal output under permanent load.
Sophisticated protection mechanisms: Safety for you and your colleagues is the highest priority, therefore, the front lid is automatically locked for safety during the milling process. The proven sealing air concept for the working chamber combined with a bellows cover further protects mechanical and electronic elements as wells the spindle from dust and milling residue.
Useful drawer for accessories: Your tools and blanks are clearly arranged and always within reach. An Administrated Tool Board (ATB) for your milling tools is integrated into this drawer. Its 30 consecutively numbered slots are administered via the CAM software.
Full integration into the Complete Digital Workflow by MANI SCHÜTZ.
Qualified consulting and service by the MANI SCHÜTZ Support Team.