Tizian Cut compact milling machine
Order number: 523190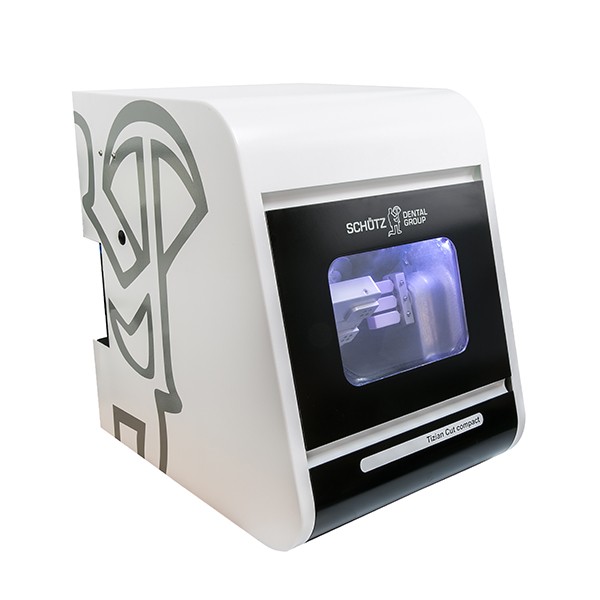 Image can differ
Note
For the purchase of this product please contact our service team
Request offer
Questions about the product? We are glad to be here for you!
Tizian Cut compact is a 4-axes wet milling system for processing glass ceramics and composites...
more
Product information "Tizian Cut compact milling machine"
Tizian Cut compact is a 4-axes wet milling system for processing glass ceramics and composites with highest precision.
Tizian Cut compact does not only brilliantly complement the dry milling system already available at your lab, but it also saves you the time-consuming cleaning procedures of combined machines necessary between dry milling and wet milling. What's more, the system with its compact and robust construction is ideal as a "stand-alone" solution for your practice lab.
The wet milling is carried out with help of a closed liquid cooling system in the machine. An external module for a pump or similar becomes unnecessary. It's relatively small size ensures that it will even fit into almost all practice labs.
Eight liquid nozzles arranged around the spindle guarantee the steady cooling of the tool from its tip to its shaft. This way, the material you work with is always cooled sufficiently and thus safely milled.

Water-proofing with bellows keeps the moisture inside the working chamber - it will not leak. Inside the liquid collecting drawer, there is a filter mat to separate the abrasive particles.
The powerful and precise spindle of the Tizian Cut compact with taper cleaning and 4-fold hybrid ceramic ball bearing reaches a permanent load of 300 Watt.
The system features an automatic 8-fold tool changer.Haptic tool measuring facilitates the use of highly efficient diamond tools. The blank holder system for three blanks lets you insert the blanks quickly and comfortably. The system works fully automatically and thus leaves you more time for other tasks.
The CAM software includes milling strategies that are specially tailored to milling. Handling is easy.
With this system from the Tizian CAM product line, you will obtain convincing and precise results within a very short time.
Materials that can be milled:
glass ceramics and composites
Technical data:
Number of axes: 4, with automatic axis compensation
Traversing range (x/y/z): 80 x 60 x 40 mm
w/d/h: ca. 36.0 x 45.1 x 47.1 cm
Weight: ca. 50 kg
Blank holder for up to 3 blanks with round shafts (complete traversing range for blanks: 60 x 40 x 20 mm)
Repetitive accuracy: ± 0.003 mm
Synchronous spindle: nominal power at permanent load 300 Watt
Maximum output: 600 Watt
Rotational speed range up to 60,000 rpm
Automatic tool changer for 8 tools with 2 changing stations which are removable for easy equipping
 Delivery range:
Complete set of cable connections
2 keys for emergency unlocking the front hatch
Service set for chuck maintenance
Maintenance set for compressed air operation and connection hose Ø 6 mm
2 coarse filter mats (1 already inserted in the system, 1 replacement)
Calibration set and measuring peg
2 screwdrivers
1 pair of tool changer inserts for replacement, including 1 drill 2.8 mm
3 replacement screws for the blank holder
1 can with pH-indicator sticks
1 liter of cooling lubricant
USB-dongle
Powerful and luxurious CAM software package