ReVeneer Adhesive Set
Order number: 232205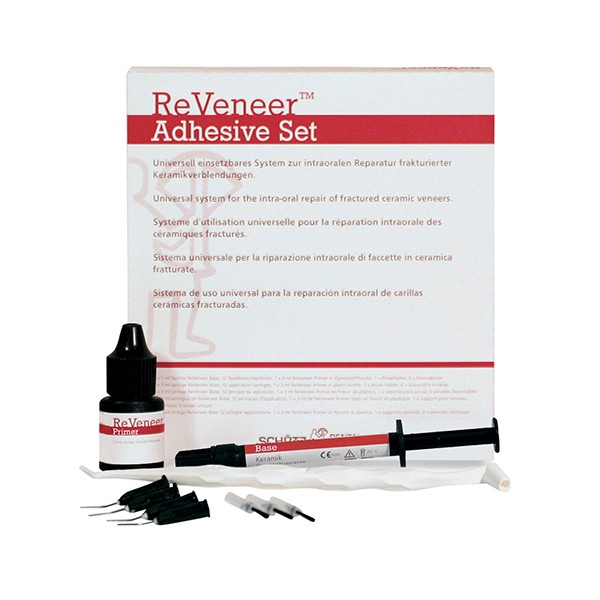 Image can differ
Note
For the purchase of this product please contact our service team
Request offer
Questions about the product? We are glad to be here for you!
In most cases, the ReVeneer Repair Set  saves  you from having to  replace  crowns or bridges....
more
Product information "ReVeneer Adhesive Set"
In most cases, the ReVeneer Repair Set saves you from having to replace crowns or bridges. This gives you security. Aesthetically pleasing, intraoral, long-lasting, safe and acid-free.
Benefits:
No acid etching (no hydrofluoric acid or phosphoric acid)
This makes intraoral application possible
No silane as bonding agent
Extremely high bond strength
Little time needed
Universal application
Tested and optimized on all common ceramics (feldspar and glass ceramics, pressed ceramic, zirconium dioxide, aluminium oxide)
Can be used with commercially available curing lamps (halogen, LED, plasma light)
Precise application because of ReVeneer Base's green color.
The change in color from green to clear makes the curing process visible and verifiable.
The ReVeneer Repair Set consists of:
1 syringe (1 g) ReVeneer Base
1 bottle (3 ml) ReVeneer Primer
12 application tips (0.9 x 13 mm)
1 brush holder
6 disposable brushes