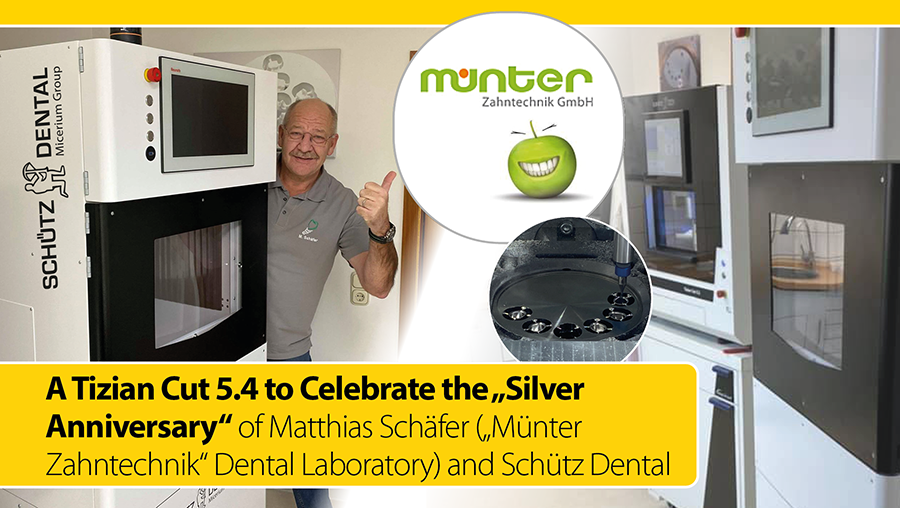 One of the first labs in the market to use a titanium casting machine, CAD/CAM since 2002, one of the first labs in the market to use a Tizian Cut 5.4, modern, innovative and with an instinct for the most promising trends - this describes "Münter Zahntechnik" dental laboratory in Eschwege/Germany.

About 25 years ago, MDT Matthias Schäfer took over the dental laboratory "Münter Zahntechnik" where he had received his on-the-job training about 17 years before. With Matthias Schäfer's knack for the dental business and his good eye for current trends, "Münter Zahntechnik" has since joined the ranks of Germany's top dental labs. The digital focus of this dental lab is clearly indicated by the fact that eight of the 12 employees are dental technicians, six of whom are CAD/CAM specialists.

In the year 2002, CAD/CAM became part of Matthias Schäfer's day-to-day work

Matthias Schäfer knew quite early on that having your own milling machine would become an absolute must for dental labs to create a stable foundation for the future and to attract new groups of customers. Up until 2002, he sent his orders to a milling center, but then he decided to take his first steps in the CAD/CAM world with his own milling machine. In doing so, he became one of the first CAD/CAM users in the dental lab business. Today, his dental technicians enjoy working with three milling machines by Schütz Dental: Tizian Cut 5, Tizian Cut 5.2 and finally the brandnew Tizian Cut 5.4.
Why CAD/CAM?
"I have always been the type of person to go full risk and to make decisions on gut feeling. Sometimes, I fell flat on my face, but with CAD/CAM I was perfectly right. I hit it big with the Biotan titanium casting machine by Schütz Dental many years back. This technology gave me a true competitive advantage back then. Today, my milling machines are my great competitive advantage over other dental labs. With my CAD/CAM systems, I stand out from the competition. My business has become much more flexible. My customers and my co-workers appreciate this very much: Next to a simplification of our work, time-saving and the more precise results, one should not underestimate the appeal that a lab with a CAD/CAM focus has on the staff, especially in times when there is a shortage of specialists."


"Without such innovations, I could hardly retain valued staff such as my two CAD/CAM specialists Holger Lichau and Tim Schuchardt. I have been working with Holger for 26 years. He has 18 years of experience in the CAD/CAM sector and he is unmatched with titanium. Holger and I have the same drive to constantly learn new skills and to work with innovative technologies. As I have trained Tim in my lab, I also taught him these values. After his training, Tim decided to seek new challenges, but later on, he came back to my lab. He is presently working on obtaining his title of MDT, he has trained of his own accord to become a Tizian Cut 5.4 specialist and he has been invited to be part of Schütz Dental's network of trainers and speakers. I am very proud of their professional growth. Personally, I believe that many dental technicians have such potential and it is too bad that much of it remains undetected. Encouraging staff development and retaining that staff is extremely important."





"I'd rather have a Tizian Cut 5.4 than a condo."
Why was having a Tizian Cut 5.4 especially important to you?
"Well, one of my friends asked me if I was crazy to invest in such a machine at my age. He asked, how many condos I already had which he believes are very important to provide for old age. But that's not my style. My two milling machines, the Tizian Cut 5 and the Tizian Cut 5.2, were working to capacity. It was obvious that we needed a third machine. I was immediately impressed by Tizian Cut 5.4. The manufacturer who produces the machine exclusively for Schütz Dental, hosted a spectacular preview at its facilities in Roßdorf/Germany. We are talking industrial machines here which are not comparable to other machines presently available in the dental market. Wherever my Tizian Cut 5.2 reaches its limits, Tizian Cut 5.4 delivers a brilliant performance. In my opinion, this machine is unbeatable in terms of milling speed and precision.
Let's use the following example: Before we had a Tizian Cut 5.4, dry milling of a bite splint took 1 hour and 15 min. With the Tizian Cut 5.4, this milling time is reduced to less than 30 min. And there is much more to it than that. The precision that this machine is capable of gives you goosebumps allover. As only the second lab to receive this machine, we have practically been chosen by Schütz Dental to be a beta tester. My colleague, Tim Schuchardt, has written and tested one milling strategy after another for the past two months and his eyes still light up everytime he sees the machine. It will give us a tremendous competitive edge once again. Splints, telescopes, frameworks (no dental technician wants to produce those manually anylonger) - none of it is a challenge for us anymore. Therefore, it does not come as a surprise that a large part of our day-to-day work are milling orders for other dental labs."

Why is Schütz Dental your partner of choice?

"When I took over "Münter Zahntechnik" 25 years ago, Schütz Dental was by my side to support me in this great (and not at all easy) venture. I never forget a good turn done to me. Now, we can practically celebrate our "silver anniversary". I very much appreciate Schütz Dental's field staff as well as their back office. We have a very trusting business relationship and the systems are extremely good! Who else can offer a complete digital workflow with optical and tactile scanners, software, milling machines, jaw measurement system etc. in a one-stop shop? The cooperation is great and I have the same contact for all my concerns. What's more, Schütz Dental is well-positioned with analog materials, as well. For instance, I clearly rely on the Futura denture acrylic line."


What do you believe to be the future opportunities and the risks in the dental industry?

"One of the greatest challenges of our business is imminent and will likely affect some labs considerably: Between 2022 and 2024, a large part of German dentists will retire. An extremely large customer base will be lost. As a precautionary measure, we have started to develop new customer bases already some years ago. We were exceptionally successful, due to our digital focus. Nevertheless, I believe that this generational change will also open up new opportunities for our business. Currently, some dentists are not very keen on digitization, but I am certain that this will change in the coming years. I am very anxious to see which effect artificial intelligence will have on the dental industry. There is certainly a lot to come. We will have to overcome many challenges and meet increasingly strict requirements, such as the new Medical Devices Law. I believe that things will undeniably remain exciting."
What measures will you take to preserve your lab's success course during the next 10 years?
"The Tizian Cut 5.4 will be my last major investment. With this machine, I see my lab well-positioned for the future and I can hand it over to my successor with a clear conscience. To secure succession is my next task and, as it seems right now, I have found a worthy successor in Tim Schuchardt. This makes me extremely proud, especially because I personally trained him some years back.
I will keep on making my decisions on gut feeling and to do so is also my advice to my successor. It is important to keep your eyes open to recognize new trends, during major exhibitions such as the IDS, but also in your day-to-day routines. An open exchange with national and international dental technicians and dentists is essential. This is how our cooperation with the University of Madrid/Spain came about. Such cooperations and customer relationships are extremely valuable and they must be maintained carefully in the future. "Münter Zahntechnik" will continue to thrive, if my successor manages these relationships and cooperations well."