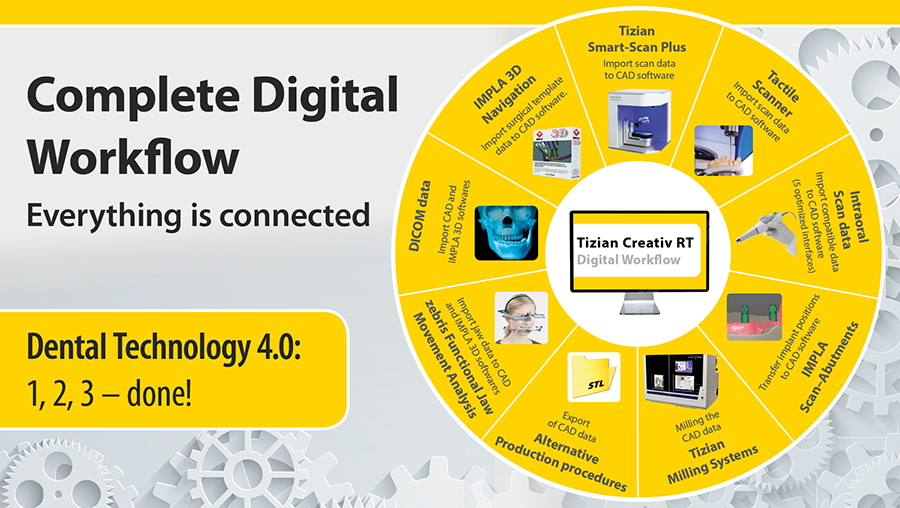 The Digital Workflow offers dentists and dental technicians many advantages that you should not do without.
CAD/CAM produced dental restorations, therapeutic splints, surgical splints for implantology and much more - all of it produced entirely digitally in your lab.
The open "Complete Digital Workflow" by Schütz Dental stands out especially with its user friendliness. Benefit from an efficient workflow, from hardware and software components which are well coordinated as well as from increased safety and even higher precision.
Dental Technology 4.0: 1, 2, 3 - done!
Published in Dental Digital 01/2018

Digitization is complex and diverse - the road to a digital lab is long, but it is imperative for a future in dental technology. Whether it is an individual lab or a dentist's practice lab, each must find their own strategy and make a decision which digital components they want to use. The most important prerequisite is an open CAD/CAM system which can process incoming data sets and data sets from supplementary diagnostic procedures.
SCHÜTZ DENTAL SUPPORTS CUSTOMERS on their chosen path. Together, a digital world is created according to the customer's requirements. Schütz Dental, being customer-oriented as well as solution-oriented, offers a complete digital workflow with numerous system components. Below, we are going to introduce this "Complete Digital Workflow" in three steps:
1. Digital Impression
Digital impressions with Carestream Intraoral Scanner CS 3600 are very pleasant for the patient. This intraoral scanner stands out with its quick and precise impression taking as well as with its great patient comfort and significant time-savings. Its outstanding advantages are a benefit for both dentists and dental labs. The dentist transfers the STL-data sets, which are created by the scanner, to the dental lab for further digital processing.
In case of conventional impression taking, the dental technician uses the fully automatic hybrid scanner Tizian Smart-Scan Plus. This system scans up to 16-unit frameworks, abutment supra-constructions, opposing jaw, wax-ups etc. - with extraordinary precision.

Precision Where It Matters Most
In a tactile scanner, individual stumps are scanned with help of a tactile probe. The CAD software transfers the stump into a digital unit. The result is a fast scan with impressive precision. Benefits for the user are, amongst others: An excellent fit of telescopic restorations, outstanding precision as well as reliable and reproducible results.

2. High-End Design in real time
The dental technician imports the digitized impression data, the data from IMPLA 3D Implant Navigation, DICOM data, tactile scan data (Renishaw DS10 scanner) and zebris measuring data into the CAD software (Tizian Creativ RT) for the construction process. The dentist analyzes the patient's jaw movements and jaw relation with the zebris jaw measuring system. In addition, the software addition "Real Movement" facilitates recording the actual and real jaw movements as well as the true position of the maxilla. To do so in a digital and an analogous mode, the system uses a digital face bow and the matching transfer table. The patented coupling tray, which is a basis for the procedure, transfers real-life data to the digital world in a process-optimized way. The dental technician can easily implement a design without a die. Data matching is carried out by the Tizian Creativ RT CAD software.
A high level of creativity aiming for a high-end design - it is what users get to experience with this future-oriented CAD software. Extremely fast processing is ensured by an automatic pre-selection of significant parameters for a restoration. In addition, the dental technician has the option to individualize automatically designed restorations with virtual tools. After the individual patient data is imported into the Tizian CAM software, the restoration is milled from the desired CAD/CAM material.


3. A Great Variety
Depending on your requirements, several different machine sizes are available:

Tizian Cut 5.2 Pro
The newly enhanced Tizian Cut 5.2 Pro leaves hardly anything to be desired. New, highly dynamic servo motors provide up to 20 % faster milling times. Due to a tripled motor solution the user obtains even more precise dental restorations. With its revolutionary milling technology, the machine can process most relevant dental technical materials, from zirconium dioxide and non-precious alloys to high performance acrylics such as PEEK. A larger and more sensitive tablet facilitates an improved machine control. The cleanliness of the machine is another important feature which provides a significant time advantage due to a new extraction concept and the water cooling.

CORiTEC 650i
The milling system CORiTEC 650i is a PREMIUM machine due to its high-quality industrial technology. With this machine, almost anything is possible! With the fully integrated and automatic 16-fold blank changer, the system is ready-to-operate around the clock and unattended, working to capacity while providing a remarkable and consistent precision.CORiTEC 650i is especially well-suited for use in large laboratories or milling centers where high quantities as well as high precision are paramount.
Tizian Blanks – Quality Control for a High Level of Safety
Our portfolio of CAD/CAM blanks comprises more than 15 different materials, such as blanks made of tooth-colored PMMA, non-precious alloys, titanium, highly translucent zirconium dioxide, etc. All Tizian CAD/CAM blanks, pritidenta blanks and also the blanks for various splint concepts (Clearsplint, polycarbonate) are subject to strict and ISO-certified quality control which provides a high level of reliability on the milling results.
Tizian – CAD/CAM System With a Potential for Success
It is a significant decision which digital path a dentist or dental technician will choose. By offering the different Tizian components separately, we give the customer the chance to identify individual manual processes in dentistry and dental technology. Then, it is up to each customer to replace either all processes at once or to replace only some and then add others later. Schütz Dental supports dental labs in their evolution to dental technology 4.0 and helps them find digital solutions for their requirements.
It is a fact: The Tizian System aimed at innovation fulfills the demands of dentists and dental technicians who prefer digital solutions. An open CAD/CAM system which can be expanded and which provides a high level of reliability for CAD/CAM-produced restorations.


IMPLA 3D Navigation
Pre-planning and Diagnosis

There are several reasons for experts to recommend 3D implant navigation: It offers patients an exceptionally high level of safety which can be documented by the dentist.
The patient will feel in good hands immediately. The dentist can show and explain the implantation procedure to the patient on screen. This will give the patient a feeling of security and lets the patient understand the benefits of such treatment. The virtual pre-planning of the surgery will make the surgery less stressful for the dentist and his team, while the results are more reliable and even more precise. With IMPLA 3D you are connected to the Digital Workflow.