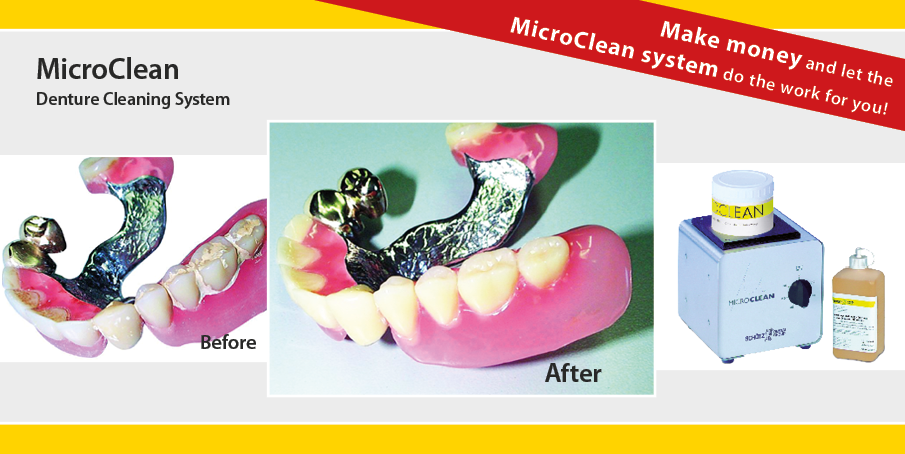 The MicroClean cleaning system cleans dentures automatically, gently, and in a way that is appropriate for the material involved. Automatically removes many heavy contaminants such as plaque and tartar without any difficulty. Even in difficult to reach areas.
No matter whether it is a denture that the patient has already worn or a newly made one - MicroClean cleans, polishes and pre-polishes e.g. crowns or bridges quickly and right into the finest interdental spaces, fissures and telescopic tips, without material abrasion.
Quick – Gentle – Compact – Health-oriented
Quick: Dual cleaning system (simultaneous chemical and mechanical cleaning)
Gentle: Specially cleaning needles with rounded tips protect the denture
Compact: Fits into almost every dental practice or dental lab
Health-oriented: Clean old dentures by removing tartar and other contamination, before you start e.g. doing a repair.

Your benefits at a glance:
Automatic cleaning
Especially for difficult to reach areas (e.g. load distribution segments)
Top quality homogeneous surface conditioning without loss of friction (telescopic restorations)
Easy removal of fixing cements
No need for ultrasonic cleaning
Much more efficient and interruption-free work


Dr. Rainer Valentin & Dr. Matthias Beldoch, Dental Practice Valentin & Partner in Cologne/Germany, have tested MicroClean:
The cleaning system MicroClean by Schütz Dental GmbH is used regularly at our practice. The handling is simple and the cleaning time of 20-60 min. can be filled in with other treatments.
In this case, a patient presented with a screw-fixed denture on an implant-supported bar construction. After releasing the screws and removing the denture, we found massive hard and soft plaque, especially in the supporting framework (see fig. 1). MicroClean was prepared in accordance with the working protocol provided by Schütz Dental. After previous disinfection, the denture was cleaned in the system for ca. 40 min. In the meantime, the bar construction and the peri-implant structure were cleaned.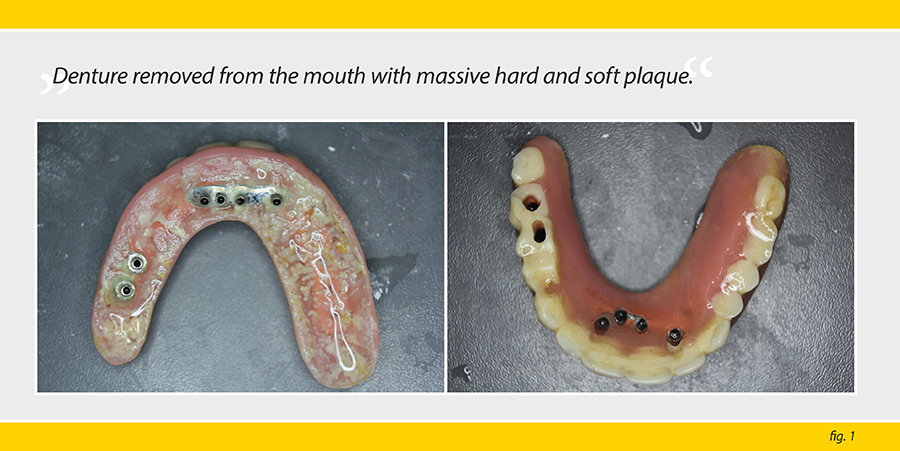 The final result showed that the denture had completely been freed from plaque. After thoroughly rinsing it with clear water, it was directly replaced in the patient's mouth (see fig. 2). According to our experience, manual cleaning takes about the same amount of time, but it requires significantly more effort. From an economic point of view, it makes sense to use MicroClean, as it saves the labour time and expenses of manual cleaning. What's more, just like the cost for manually cleaning the denture, the cleaning with MicroClean can be billed to the patient as an individual health service.


---
Standard equipment:
needles long, 150 g
plastic container
tweezers, 18 cm
holding magnet, complete
info display
measuring cylinder, 50 ml
2 x 500 ml cleaning fluid (green and orange


---
Technical data:
Voltage: 230 V~
Output: 200 VA
Revolutions: 1,450 rpm
Phase number: 1 phase N+PE
Central point conductor: resilient N~
Protective conductor: separate protective conductor (PE-green/yellow)
Protection class: I
Protection type: covered
Frequency: 50/60 Hz
Noise level: < 65 dB (A)
Dimensions (w x d x h): 185 x 175 x 195 mm
Weight: 7 kg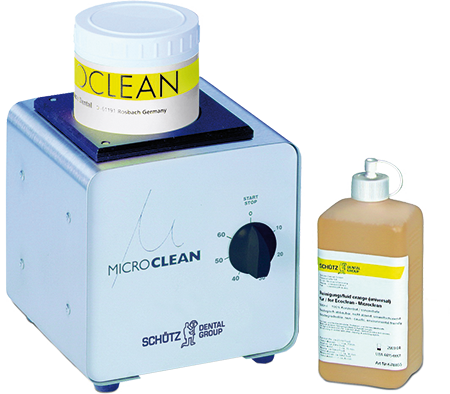 That's how MicroClean Cleaning System works
Demonstrated at the example of coins.