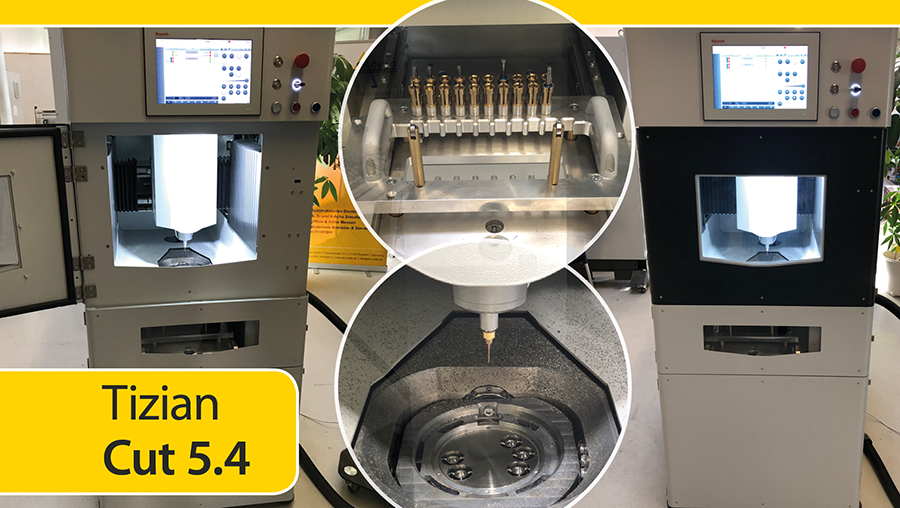 Milling machine Tizian Cut 5.4 from Schütz Dental-"Made in Germany"
The system features automated quality control through integrated measuring probes
The dental world experiences milling in a new way: the Tizian Cut 5.4 from Schütz Dental is the revolution in digital workflow with a high manufacturing competence.
This industrial-level machine enables the digital dental world to now produce a multitude of restorations in a quality never seen before- with an impressive and unique milling speed. CAD/CAM laboratories are now able to raise their productivity and therefore their profitability to a new level. This is achieved through an outstanding milling speed in combination with extremely high precision. This goal was reached by building in a high-performance spindle with direct drive and 25 mm thick ball screw rods. This ensures that even restorations made of non-precious alloys can be manufactured with a unique and as yet unprecedented speed.
All millable materials ranging from titanium, non-precious alloys and zirconium oxide to PMMA and PEEK can be processed in both dry and wet techniques. If retrofitted accordingly, even glass ceramics and lithium disilicate can be milled with a special blank holder. The automatic cleaning function of the inner chamber makes it possible to change different materials in the shortest possible time and with just a few simple steps. The integrated tactile probe provides direct control of the milling result and accurate remilling if necessary. It is especially useful for the production of secondary parts. A new scan system automatically detects blanks and milling tools and aligns the machine accordingly. A mix-up of milling tools or blanks is excluded.
Additional top features: a 10-fold blank and 20-fold tool exchanger as well as a water-cooled machine base made of mineral cast, which achieves maximum precision.
In summary, the Tizian Cut 5.4 is a top-class machine for all entrepreneurs seeking a top position in the digital dental world.
Customers of Schütz Dental say: "The Tizian Cut 5.4 convinced me! Once again, Schütz Dental hit the bull's eye. One always thinks nothing new is possible, but progress keeps coming on. The tactile probe in the machine is amazing! I think it's the only machine in the dental field that can do that."
Claudia Gabbert, Nordquadrat PR + Marketing