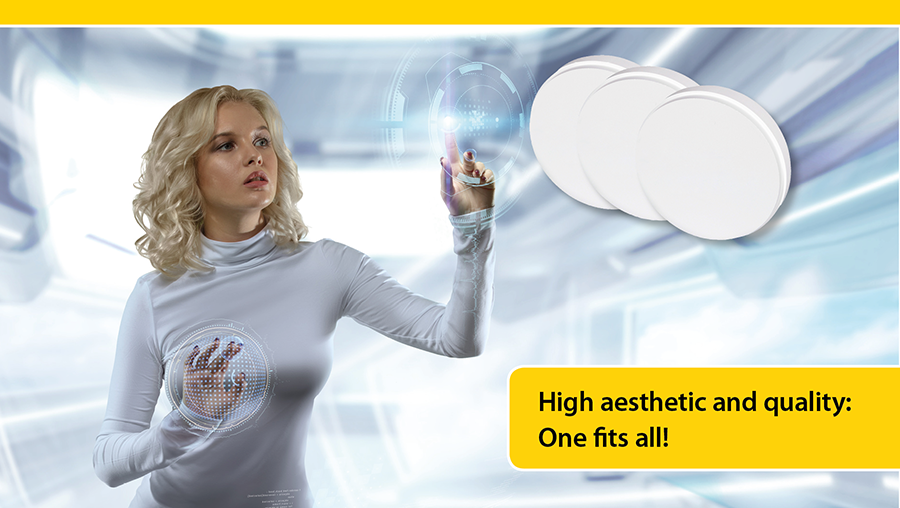 Excellent aesthetics and stability for any type of restoration.
Maximum translucency 45 % + maximum resistance >1,150 MPa
Usable for up to 16 pontics. Create a harmonious color gradation by positioning your design in different places in the disc. The shade table shows the color map for the VITA Classical® and VITA System 3D-Master® systems. The positioning and color mapping can be adjusted to the right blank height depending on the restoration height.
Indications:
Tizian Blank 5.0 Multilayer Translucent Zirconia have been designed for the production of fully anatomical monolithic crowns and bridges (up to 16 pontics) as well as for custommade suprastructures. The restorations can be partially or fully veneered and are suitable for anterior or posterior restorations on natural teeth or on implants. With its unique balance between high translucency and high flexural strength, the material can be recommended for a wide range of indications.
Your benefits:
Highly aesthetic: Harmoniously adjusted color gradients that meet the highest aesthetic requirements. This means that fully anatomical restorations can be produced without ceramic veneering.

Attractive: Higher translucency than zirconium dioxide materials treated with coloring liquids.

Quick: Without the otherwise standard and timeconsuming work steps such as immersion, painting and drying, the sintering process can begin immediately after milling.

Easy: Impressive, highly aesthetic and brilliant results - simply by glazing and polishing.

Accurate: Reliably homogeneous shading throughout; no bright spots during the post-processing.

Effective: Save precious time and materials by skipping the coloring and drying procedures.

Reliable: High process reliability due to consistent coloring.

Flexible: Can be used with all veneering ceramics which are recommended for ZrO2 ceramic materials.

Clean: No contamination of sintering furnace/beads, etc.



Material:
Zirconium type II, class 5, according to DIN EN ISO 6872

Flexural strength >1,150 MPa

High translucency of 45 %

Thin wall thickness of 0.4 mm for single crowns in the anterior tooth area and 0.6 mm in the posterior tooth area

Precise edge and margins due to highly compacted material

Veneering possible with any ceramic material with a matching CTE of 10 · 10-6 · K-1 of ZrO2

Cross-batch color accuracy

Homogeneous shading

Reproducible colors

Biocompatible


Choose your Tizian Blank 5.0