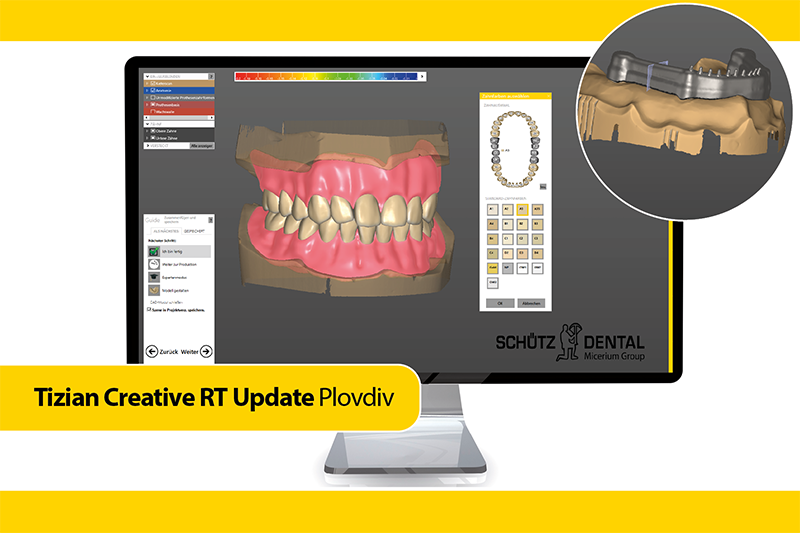 Plovdiv is latest major release of our dental CAD.
This release contains more than 60 new features and 40 extended functions that make our software even more attractive for every dental technician. Experts benefit from the unique flexibility of the software, which gives them extremely high design freedom via the software's expert mode. The prosthetic tooth library has been expanded to include well-known manufacturers such as Vita, Dentsply Sirona and Ruthinium. With selected libraries it is even possible to scale and modify the existing shapes allowing users to manufacture prefabricated teeth in a variety of production methods.
Highlights
Major improvements to the Full Denture module for the design of single arch dentures including free-forming, adaptation to occlusion, dynamic virtual articulation, and simple 3D printed denture workflows with bridge connectors.


Advanced workflow for Thimble crown design is now available for the design of implant-supported borne Thimble bridges, without rescanning the substructure.


The workflow to design on scanned substructures - Implant Type Substructure Scan - is not beta anymore and has many additional improvements, primarily for designing virtual gingiva or offset substructures on scanned bars.


Improved DentalCAD workflow integration for PartialCAD. A new beta feature allows for overdenture design while using milled or printed teeth.


Immediate Load workflows for design on exoplan's implant planning output data is not beta any more.


Achieve the most accurate digital facebow transfer from the advanced import option for zebris data.


The Model Creator module is enhanced with new features: dynamically adjust the gap between the analog and printed model during the design, predefined base shapes for plateless models, and a new beta for digital waxup models.