Our tip for you: Ceramic Repairs in 6 Steps
The road to a low-cost and safe repair of restorations directly inside the mouth. Quick, easy and without acid-etching!
By using ReVeneer, you will not have to remove the damaged restoration in most cases. Instead, the restoration can be repaired directly in the patient's mouth.
Generally, damaged ceramic restorations must be removed from the patient's mouth before repairing them. Often, however, this is impossible which means that a new restoration must be produced. That is why we developed ReVeneer. In many cases, it saves you the trouble of having to reproduce a crown or bridge. What's more, the use of ReVeneer significantly decreases the time-consuming (and costly) treatment for the patient. The fact that the material is effective without acid and the use of a rubber dam can be foregone**, makes the product especially attractive.

This is how it works: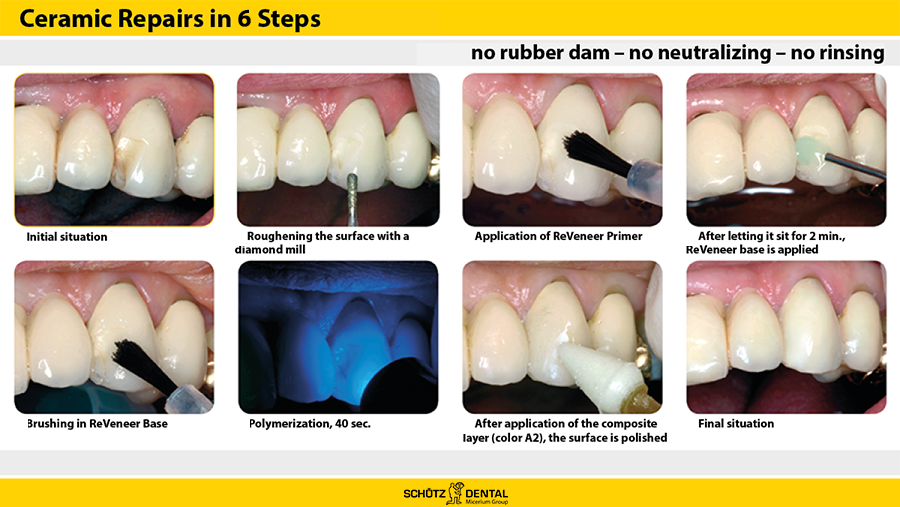 Thousands are thrilled with this product! It has been proven countless times!
Aesthetic, intra-oral, lasting, safe and acid-free
In many cases, the ReVeneer Repair Set saves you the trouble of having to reproduce a crown or bridge, thus providing the reliability you need.
ReVeneer has specifically been developed for repairs on zirconium dioxide, CoCr, pressing ceramics, lithium disilicate and aluminium oxide. The comprehensive Repair Set contains everything you will need for a ceramic repair: primer, repair paste and composite.
Use this acid-free product and forego the laborious and inconvenient placement of a rubber dam**. The treatment will be safer for your patient without the risk of acid burns. High bonding values and an easy handling round off this ingenious product. The so-called "chameleon effect" is a most compelling feature, as repairs with ReVeneer do not stand out. There is no necessity to neutralize or rinse as is customary with most similar products. Benefit from the significant time-saving and fewer sources of error due to fewer work steps.
Your benefits at a glance:


No acid etching (neither hydrofluoric nor phosphoric acid), i.e. no rubber dam**
Safe for intraoral use
No silane as primer
Extremely high bonding strength
Time saving
Can be used universally
Tested and optimized on all conventional ceramics (feldspath and glass ceramic, pressing ceramic, zirconia, aluminium oxide)
Use of conventional curing lamps (halogen, LED, plasma light) possible
ReVeneer Base's green color facilitates a precise application
The change in color from green to clear indicates when curing is complete.

**Not for patients with an MMA allergy and in cases where relative drying is not sufficient to keep the surface dry.
Study: New Ceramic Repair System without Etching

Source: Gesellschaft für Dentale Forschung und Innovationen mbH