The best Baywatch in the world, to the world by GDF/Schütz Dental
This past Friday, the employees of GDF/Schütz Dental joyfully celebrated their annual Summer Party. This year's motto was "MANI-llorca". Despite pouring rain, thunder and lightning, everyone had a wonderful time.
Teruo Takahashi and Wolf Zientz attended the party in Baywatch look-alike outfits and took the opportunity to thank everyone cordially for all their hard work during the past months. Special attention was paid to thanking ten employees who celebrated their tenth, fifteenth, twentieth and even fourty-fifth anniversary working with GDF/Schütz Dental. After duly honoring these colleagues with little gifts, a buffet dinner was served.
Just when everyone thought that the organization team had forgotten to order dessert, an ice cream cart pulled up in front of the fest tent at about 09.00 p.m. - an absolute highlight of the event! A bit later, an enjoyable and very amusing comedy program spiced with some musical interludes made the event a true triumph. The joyous party went on until after midnight.
Now, everyone already looks forward to next year's summer fest and to all of the organization team's future fun ideas.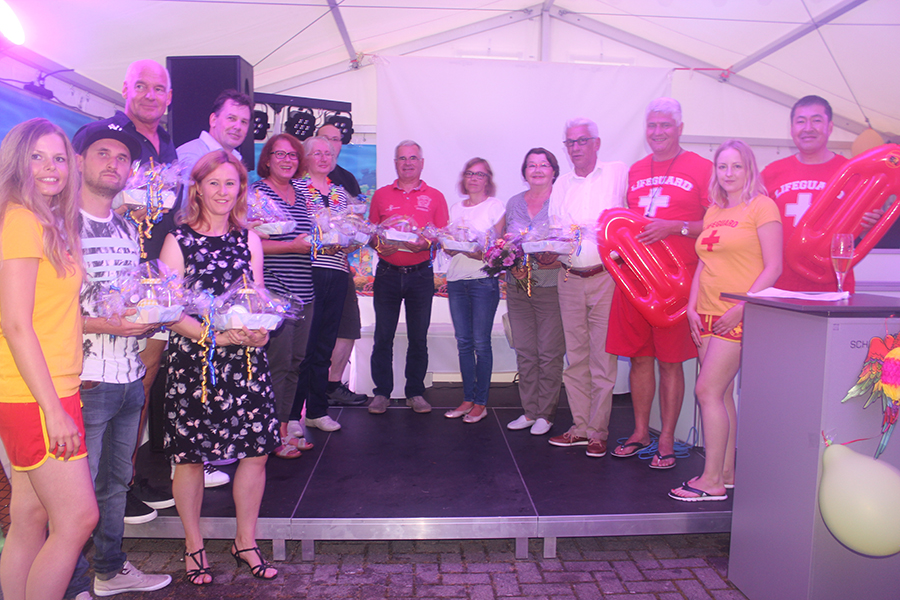 The members pictured are, from left to right: Valeri Straub, Jennifer Kraft, Michael Stock, Christian Bartels, Ninja Roos, Dagmar Appel, Alexander Lang, Peter Liebezeit, Silke Baier, Ingrid and Peter Langenfeld and the "Baywatch-Team" Carolin Curic, Franziska Diebel, Teruo Takahashi und Wolf Zientz.