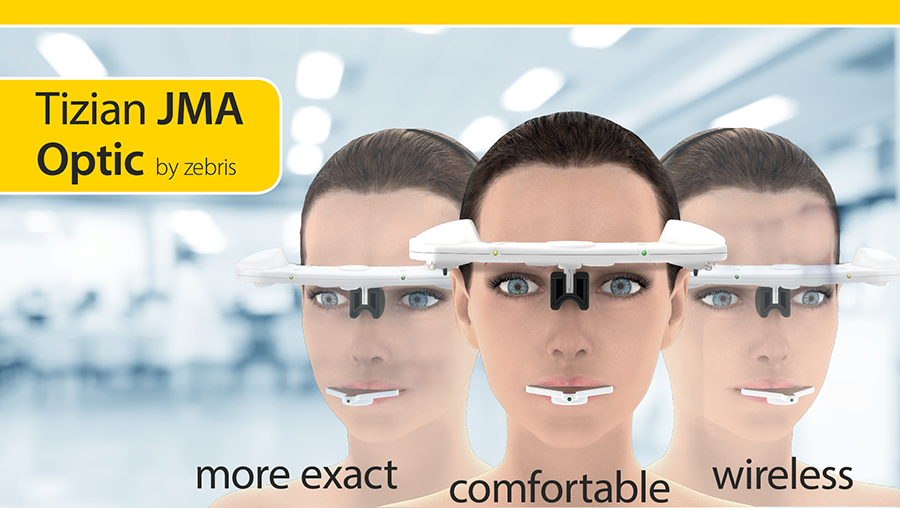 More exact, more comfortable and wireless: The new Tizian JMA Optic by zebris system
Schütz Dental presents a new dimension in jaw registration.
With the new Tizian JMA Optic by zebris, Schütz Dental provides a new dimension in digital functional dentistry. The latest optical sensor technology as well as the patients' comfort take center stage in the new, expanded jaw measuring system. Based upon a light optics procedure, the system records the condyle movements and all six movement directions of the lower jaw with extremely high precision. The measuring data received by the user of Tizian JMA Optic by zebris is even more precise than the data received with the ultrasound procedure. The system is indicated for supporting the design of dental restorations, considering functional aspects, as well as for planning, documenting and controlling the oral rehabilitation.The user has the option to operate the system via a USB interface or without a cable via Wi-Fi. This makes the system portable within the practice premises.

The lower jaw sensor has been minimized significantly to a width of 7 cm and a length of 4.5 cm. Correspondingly, it has also become lighter. The sensor is fixed to the coupling tray and connected to the teeth in the lower jaw with help of a magnetic closure. Patient comfort was a decisive goal in the new system's design. A headband supports the system and the support surfaces of the facebow with its integrated camera module and infrared module are padded. Handling the system is just as easy as putting on a pair of glasses. The facebow was designed not to disturb the patient's field of vision. There are no more bothersome cables and no recording module to wear around the neck which enhances patient comfort.The battery-operated facebow is recharged in an integrated inductive charger. Arbitrary reference planes on the head can be entered with the T-pointer which is included in the system. The patented coupling tray establishes the exact relationship between the movement data supplied by the measuring system and the tooth surfaces scanned by the model scanner. At the same time, the coupling tray is part of the new zebris transfer stand and it facilitates an easy transfer of the upper jaw position to a mechanical articulator. The use of a mechanical facebow becomes unnecessary. The modular and intuitive analytical software WINJAW+ includes a database, the basic module for determining parameters of mechanical and virtual articulators as well as an export function for real movement data. Transfer real patient data or the settings of virtual articulators via standardized XML-transfer to external CAD systems.

This makes the system an integral part of the Schütz Dental digital workflow for the production of functional prosthetics which "actually fit".
Claudia Gabbert, Nordquadrat PR + Marketing
Are you interested in the zebris system?
Please make an appointment for a free demonstration by our specialists now.
Telephone: +49 (0) 6003 814-365 or use our contact form: