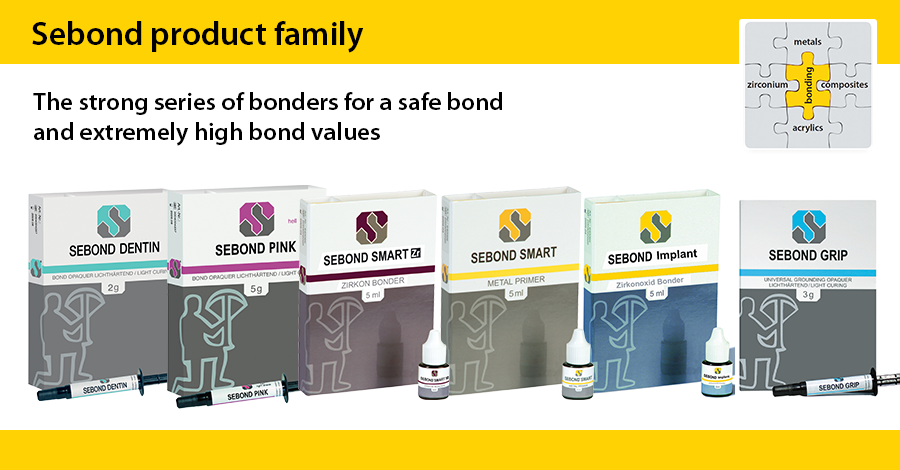 Composite and Bonding systems


The strong Sebond product family for a safe bond


It is extremely important to use bonding systems to guarantee a safe and complete bond. Without the use of a bonder, bacteria and food debris will soon accumulate at the margins. These margins are extremely difficult, if not impossible to clean for the patients. The color at the margins will darken and an unpleasant odor can develop.

Use Sebond for a safe bond. A Sebond solution for almost any task: The Schütz Dental bonding systems securely and easily bond acrylics, composites, zirconium dioxide and metal. Benefit from outstanding quality due to several decades of experience and customer feedback.


A Sebond solution for these indications:

For universal use
Sebond Universal – The Allrounder
Sebond Universal is a single-component universal primer for strong adhesive bond between luting materials such as Alphalink Cem and indirect restorations made from lithium disilicate glass ceramic, zirconium dioxide, precious metals, non-precious metals, titanium, Zirconia Reinforced Composite, composites. Its combination of three different methacrylates, silane methacrylate, phosphoric acid methacrylate and a sulfide methacrylate, ensures strong and longlasting adhesion on the indirect restoration materials.
Your benefits:
Universally applicable: just one primer for almost all dental restoration materials
Extremely economical: One thin film is enough
Across-the-board residence time of 60 seconds
Easy to handle
Longlasting, secure adhesion
Economic dispensing option
Does not contain Bis-GMA, TEGDMA or HEMA
No light polymerization required
Low-viscosity material ensures efficient, rapid application
Conveniently storable at room temperature (refrigeration not required)
No additional equipment needed


For Acrylics/Composite and Metal
Sebond Smart – The well-proven metal bonding agent.
Sebond Smart was developed especially for safely bonding acrylics or composite to metal as well as for the chemical adhesion of composite veneers.
Your benefits:
Extremely high bond strength.
For a secure and durable bond.
High level of biological compatibility.
No additional light-curing needed.
The primer is universally useable on all common metals, and with all common composite systems.
For zirconium dioxide and composite
Sebond Smart Zr – The innovative zirconium bonder
Chemical retention of composite veneers. Specially developed for a safe bond between zirconium dioxide and composite.
Your benefits:
For a secure and durable bond.
No additional light-curing needed.
The bonder is for universal use with all common zirconium dioxide and composite systems.
If you want to offer your clients zirconium dioxide work with a composite veneer, for example for implant restorations, then this is the right bonder for you.
For Acrylics and Metal
Sebond Pink/Sebond Dentin – Bond opaquer with excellent bonding values
The bond opaquers with an extremely high bond strength. For a secure and lasting bond. You plan on completing frameworks? Then this is a great product for you! Sebond Pink und Sebond Dentin eignen sich hervorragend for covering framework saddles and retentions. Sebond Pink and Sebond Dentin are well-suited for covering framework saddles and retentions. The color adaption of the opaquer to the acrylic teeth makes this material an ideal choice for the facet technique. Experience the easy handling and the high quality of the results!
Your benefits:
Opaque and bonder all in one.
Excellent opacity and extremely high bonding strength.
Monomer resistant
Due to the color balance of the opaque and the acrylic teeth, the material is ideal for the façade technique.
Visible clips "disappear" in the mouth due to color matching.
The convenient working methods will convince you.
Long lasting, great results.
Save time and money: Skip two working steps and forego the additional metal bonder.


Sebond Pink available in light pink and dark pink
Show product
Sebond Dentin available in 5 shades
Show product

Use of Sebond Pink by ZTM Carsten Wenke.


For Composite and Metal
Sebond Grip – A supplementary mechanical adhesion promoter for even more safety.
Sebond Grip wurde speziell für die Verblendung von Kunststoffen entwickelt und wird einfach zwischen Metal-Bonder und Pastenopaker aufgetragen.
Your benefits:
Good fluidity - thin bonding coat to the primer on metal.
Low pigmentation - considerably faster polymerisation.
High bond strength, and very good chemical bonding to any paste opaque.
Good bonding, even with systems without a metal bonder
Chewing pressure and shear force stand no chance with Sebond Grip.
For titanium and high precious alloys, non-precious alloys resp. zirconium dioxide
Sebond Implant/Alphalink Implant – For bonding individual abutments to zirconium dioxide
For bonding titanium abutments to individualized zirconium dioxide abutments or supra-constructions. Glue individual abutments to the corresponding adhesive base. Use this system for secure adhesion of supra constructions to abutments.


The full system contains:
Sebond Implant: The bonding agent prepares the zirconium dioxide surface for secure bonding.
Alphalink Implant: The fixing composite bonds your framework to the abutment.
Bond the following materials:
Zirconium dioxide
Precious metal
Non-precious metal
Titanium
Ceramics
Remarkable bond strength values:
Zirconium dioxide: > 20 MPa
Titanium: > 30 MPa
Your benefits:
The material offers the highest level of safety, as it was especially developed for bonding
The system adapts to the user:
Intraoral

use = quick curing

Use on models = longer working range
Excellent bond strength
Long term stability due to the specially adapated formula
Saves time
Facilitates accurate work:The pasty consistency lets you remove excess material very easily


Sebond Implant
Show product
Alphalink Implant
Show product
Veneer your dental restorations aesthetically, safely and comfortable with veneering composites of the dialog product family.